ISO 9001:2015 Certification
PEARLAND, TX — Friday, December 9, 2022 - LABUSA, a provider of cloud-based managed services, obtains ISO 9001:2015 Certification as of December 8, 2022.
International Organization for Standardization (ISO) 9001:2015 is the internationally recognized standard for a quality management system (QMS) for companies that ensure consistency in meeting their customers' requirements. This standard is based on several quality management principles, including customer focus, process approach, and continual improvement. 
LABUSA President Martin Laster said, "Our (LABUSA) commitment to fulfilling our customer's needs and objectives is on full display today.  Our company has undergone a systematic, independent examination of the activities and outputs and has been confirmed that they comply with ISO 9001:2015 requirements." ISO 9001:2015 certification directly benefits the customers who rely on LABUSA's s products and services.
Certificate No. 1116745
The LABUSA leadership team is actively involved, committed, accountable, and focused on ongoing support for the quality objectives set.  The ISO 9001:2015 certificate can be downloaded here.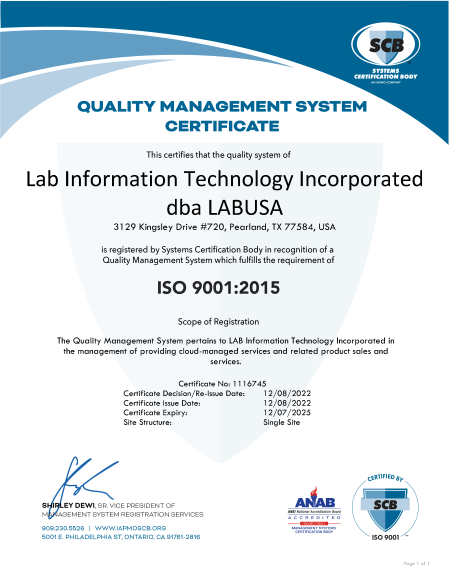 About LABUSA
LAB Information Technology Incorporated (LABUSA), is a Cloud Service Provider enabling organizations to build a robust digital business model.  We provide managed services through an open hybrid cloud strategy that integrates public, private, and on-premises computing systems with intelligent edge devices.  Our solution extends the information technology environment's efficiency, security, reliability, and cost-effectiveness.  Federal, state, and local governments trust LABUSA to provide cloud-based solutions to reduce costs and manage risk.  For more information, contact LABUSA at 281-393-8003, email info@labusa.com, or visit the website www.labusa.com.